Ok, so, i've decided that no more talky talky about good diet & no follow-through.
With hot weather here, a constant supply of greens from the garden, and basically feeling like i need to get on with it, I've made the move to a cleaner diet.
It's even looking like it may be a mostly raw diet as well. Lots of salads, fruits & nuts. an occasional stir fry and a move back into a vegetarian diet & even dropping dairy as well.
I'm simply tired of being tired & unmotivated physically.
I haven't been walking as much as i have in the past few years.
i've used the heat as an excuse, but it wasn't one a couple of years ago. I'd walk home in the blazing sun & absolutely love the sweatyness, teh feeling of being baked in the sun & pushing my body forward until i arrive home ready for a cool shower.
so, this is gonna be a great experiment. coupled with meditation & maybe even some yoga, i should be gettin in gear in no time.
then maybe i'll be lookin as sharp as "
theMan
" hehe.(see his progress as posted by his lovely lady
here
)
his journey into a more disciplines healthy lifestyle is quite inspiring.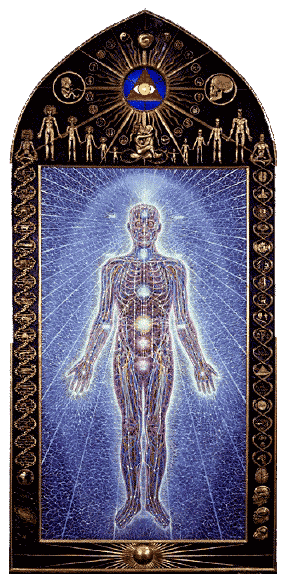 painting is from
Alex Grey's
Chapel of Sacred Mirrors