it was a rather relaxing weekend.
friday night spent hangin & making music with bob & doug, breakfast at b&b on saturday then cleaning with occasional breaks for episodes of
Freaks & Geeks
(i'm currently on disc 3)
It's felt good to be getting things in order, and a weekend to myself was much needed.
I'm sittin here right now watching an awesome Live set from Mark De Clive-Lowe at
FabChannel
, which has over 300 live sets from the Paradiso in Amsterdam (in amazingly high quality of both video & audio)
so many new projects in mind...things set in motion...
i have to be careful not to become a hermit while tinkering with ideas & projects.
no mystical jargon today...at least not from me...
instead, i'll give ya another quote from
osho
this one is from page 197 of Volume 1 of "I Say Unto You - talks on the sayings of Jesus"(see sidebar for pic of the book):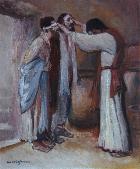 "You cannot help the blind man to know
what is white, or what is colour, or what is light.
All your help is going to give him something wrong.
There is no way to help the blind man by definitions,
by explanations, by theories, by dogmas, by scriptures.
The only way to help him is to heal his eyes." - osho